What do you do with a bunch of potatoes and some random herbs? Make Rösti of course! I guess Rösti can be compared to a hashbrown or
Latkae
but it is actually a Swiss dish made of grated potatoes shaped into patties, either pan fried or baked. I could just copy and paste the whole wiki explanation but links are always good!

I broke open my Martha Stewart cook book and seeing as it was the easiest thing with ingredients I already had, I decided to give it a try. It was actually really really delicious, crisp and light and...potatoey if that's a word. The original recipe was to saute some wild mushrooms and put them on top but instead I just pan-fried some tilapia and steamed some vegetables to go with it. You can mix just about anything with it, I think next time I'll go for something cheesy.



Herbed Rösti


Modified from

Martha Stewart's Cooking School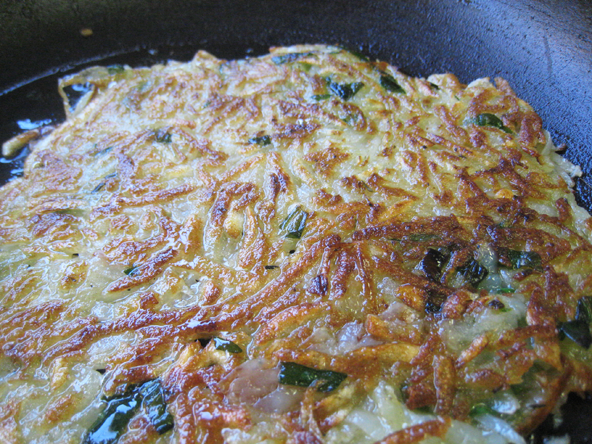 o
2 Large Russet Potatoes (

Some recipes say to boil the potatoes 8-10 minutes prior to shredding but you can also use them raw as with this recipe.

)

o
1/2 Small Leek, Julienned

o
1 Scallion, Chopped

o
1 Teaspoon Finely Chopped Thyme Leaves or Rosemary (

I used dried Thyme, use and extra 1/2 tsp if you do

)

o
1 Teaspoon Fresh or Dried Parsley

o
Coarse Salt and Freshly Ground Black Pepper

o
2 Tablespoons Unsalted Butter

o
2 Tablespoons Olive Oil


1.
If baking instead of frying, go ahead and preheat over to 400 degree F.


2.
Peel and grate both potatoes with a box grater. Soak shredded potatoes in a large bowl of cold water for around five minutes or so to get rid of starch or your Rösti will be very chewy. The potatoes may turn a rusty sort of color but that's alright, I spazzed and retched for about three seconds before I realized it goes away after a rinse.


3.
While the potatoes are soaking, you can take this time to ready your vegetables/herbs and set them aside.


4.
Lift shredded potatoes out with your hands and squeeze out liquid. Squeeze excess liquid into paper towels or clean kitchen towel. Here you can transfer it to another bowl, cover with plastic wrap and put in the refrigerator for half an hour or so. I wasn't being patient so I skipped that step. The Rösti ended up coming out a little softer than I would have liked so next time I think I'll just take the time to do that.


5.
Toss all vegetables/herbs together in bowl.


6.
If frying
: Melt unsalted butter and/or oil in pan. Drop enough of the potato mixture into the pan to thinly layer the entire bottom where you cannot see any of the pan peeking through. Let the Rösti cook on one side until the edges turn a deep brown, then flip to cook other side. If you're not using a stainless steel pan with nicely sloped sides, I suggest making your Rösti into smaller patties so they can be flipped with a spatula.


If Baking
: Melt butter into oven-safe pan, layer potatoes, then place in preheated over for 5-10 minutes.


7.

After Rösti is done cooking, place on a place and top with your choice of vegetables, meat, or fish then enjoy!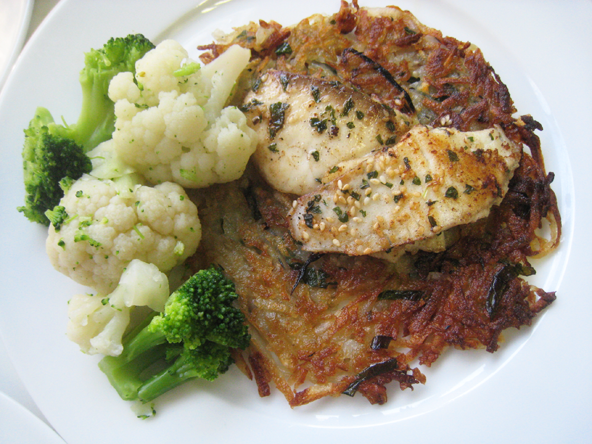 Pan-Fried Tilapia
♥

2 Tilapia Fillets (

can substitute cod or halibut

)


♥

1 Teaspoon Olive Oil

♥ Coarse Salt and Freshly Ground Black Pepper

♥ 1 Teaspoon Sesame Seeds
1.
Rub one side of fish fillets with olive oil. Season with a few pinches of salt and pepper, then sprinkle with sesame seeds. Flip over and do the other side.


2.
Place tilapia in hot, oiled pan and cook until golden brown. Flip over with a spatula and fry the other side. When cooked scoop from pan and place on top of
Rösti.